Half Price Day!
On the third day of Sleeping, in the year 3, all the Neopian Shopkeepers announced that the third of every month would be Half Price Day. All the items that go into shops on this day will all be half price! Wow - dont have a Kau!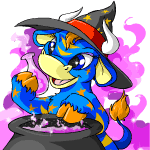 ---
Health Frog's Spectacular Vegetarian Food Giveaway
Health Frog is tired of all the junk food that pets have been eating in Neopia. Because of this he takes all the proceeds from his shop and spends it on free health food that he puts in the money tree. Depending on how his sales have been going, he may put up to 200 items in there, or only 10.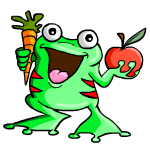 ---
The Lupe Pack Great Chocolate Chia Buffet
Every so often the Lupe Pack decides to give away their favourite food, chocolate chias, to all the owners of Neopia. They come in both white and dark chocolate, so make sure you grab as many as you can!!!



---
Pango Pango Tropical Giveaway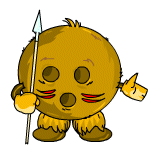 Pango Pango is a chief coconut who lives on the Mystery Isle - every so often he donates hundreds of weird and wonderful exotic fruits to the owners of Neopia!